Q&A With Kortney + Dave Wilson of HGTV's Music City Fix
Mar 13, 2019, 18:43 PM
From Nashville singer-songwriter, to house-flipping expert, Kortney Wilson brings audiences behind-the-scenes during the transformation of Nashville homes brought to life by her and her husband, Dave Wilson, on HGTV's "Music City Fix."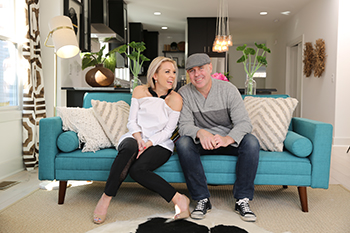 Kortney answered some questions to help us get to know her better with some fun facts, along with some home and decor tips. For even more helpful ideas, be sure to check out Kortney and Dave's new book, "Live Happy." Follow on Instagram, @allthingskortneywilson and @kortneyanddave, for more updates.
Q. If you had to move to another country, which would you pick and why?
A. I'm sort of in love with Italy right now. Dave and I visited this year and felt like we could live in Florence for a while. Not forever, but a year or two would be wonderful.
Q. What's a common mistake homeowners make when they take on a home improvement project themselves?
A. Taking it on themselves – ha! Knowing when it is less expensive to hire someone. Often, it's less than fixing your own mistakes.
Q. Fill in the blank: The three things I can't live without are:
A. Chapstick, my 'to-do' notebook and my iPhone.
Q. What project have you been most proud to work on?
A. Any project where I am pushing the limits on color and ends up working out in a big way is a huge win. In the third season, we did a Victorian and layered on the color. Everyone resisted the entire flip, but it came together in the end and turned the eyes of everyone who was skeptical.
Q. Where do you go online to find inspiration?
A. Pinterest is my go-to, but I screenshot things that come up on Instagram all the time.
Q. What advice would you give to your 10-year-old self?
A. It's not going to go down exactly how you think, but everything will be okay. Roll with it.
Q. Would you rather upgrade your closet, bathroom or kitchen?
A. I'm in love with my walk-in closet, but it's been seven years since I have renovated our kitchen, and I'm getting a little antsy. It's not outdated but when you are constantly renovating houses, your house seems like it's dating itself faster than it is.
Q. What are your best outdoor decor tips?
A. I love a combo of hard and soft scapes. All too often, people don't give the exterior dimension. It's like mixing patterns to break things up inside. The outside needs various heights, colors and textures to have great curb appeal. It takes some good planning. I'm not the best with outdoor plants and I know my limits, so I always consult a landscaper before buying a bunch of plants. I usually have our landscaper on Facetime in the summer.
Q. Could you live in a tiny home?
A. For a week or two but not forever. I could live in a really small place with a small bedroom, but I couldn't live with a really small bathroom. It's one of those amenities that I've gotten used to, and I need both a shower and a bathtub. I would love to scale down because I'm sort of a minimalist at heart and I hate clutter, but I like a spacious bathroom.
Q. Which HGTV / DIY Network star would you most like to work with and why?
A. We are friends with Drew and Jonathan Scott, and we would love to work with them on a project. Or maybe do a house-off. Brothers versus K&D.
With more than 50 home flips and an award-winning real estate career under her belt, Kortney will bring décor and renovation expertise to the show during Kortney and Dave's stage presentations on Friday, March 15 at 6pm and Saturday, March 16 at pm. Get your tickets now and save $2!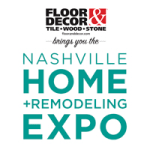 MARCH 15-17, 2019
MUSIC CITY CENTER